Shopping Cart
Your Cart is Empty
There was an error with PayPal
Click here to try again
Thank you for your business!
You should be receiving an order confirmation from Paypal shortly.
Exit Shopping Cart
| | |
| --- | --- |
| Posted on September 29, 2020 at 10:15 AM | |
Mornin' Ginchers,
It's Tune in Tuesday ... Jerry Lee Lewis ... the Killer!  Today is Jerry Lee's Birthday, born September 29, 1935 in Ferriday, Louisianna.  Known as the "Killer" and described as Rock and Roll's first Wild Man and defenitly one of the pioneers of Rock and Roll and one of the all time greatest rock pianists.  Jerry Lee conquered many music venues, Rock and Roll, Rhythm n' Blues, Rockabilly and Country.  His first recording was at Sun Records in 1956, "Crazy Arms" and his first hit was in 1957 with "Whole Lotta Shakin' Goin' On".  He followed up with more Rock n' Roll classics like "Great Balls of Fire", "Breathless" and "High School Condifential" and was on a roll with hit records.  Unfortunately a scandal put a halt on his rising career with the marriage of his 13 year old cousin.  With all the negative publicity this put a halt to the Killers career but only for a short time.  In 1964, Jerry Lee recorded a live album "Live at the Star Club" in Hamburg and is said to be one of the greatest live albums ever.  He made the switch to country and hit the charts like a rocket in space.  Jerry Lee continued to be a concert draw throughout his life and in 2006 recorded an album that was his best selling album yet "Last Man Standing".  With over 30 hit records, 4 Grammy Awards, a Grammy Lifetime Achievement Award, 2 Grammy Hall of Fame Awards he continues to rack up an impressive career.  In 1986 he was inducted into the Rock and Roll Hall of Fame and the Memphis Music Hall of Fame. IN 1989 the movie of his life was released with Dennis Quaid playing his part.  In 2003 Rolling Stome Magazine ranked him number 24 on thier list of the 100 Greatest Artists of All Time.  Jerry Lee is the last surviving member of the Million Dollar Quartet of Sun Records and the Class of '55 album which included Johnny Cash, Carl Perkins, Roy Orbison and Elvis Presley.  Recently the broadway play called the Million Dollar Quartet became a huge hit ... imagine having Johnny Cash, Carl Perkins, Elvis Presley and Jerry Lee Lewis in a studio together at the same time.  I had the honors of working a few times with Jerry Lee and I spent some quality time talking with the Killer and absorbing his Rockin' knowledge like a sponge.  The man is bigger than life and his energy level is second to none.  Jerry Lee Lewis is a master, a master of the piano, a master of Rock and Roll, a master of persaverance, a master of survival ... he is ... the Killer!  Till tomorrow, stay safe, stay healthy, help a neighbor when you can ... and, GOD Bless!
Johnny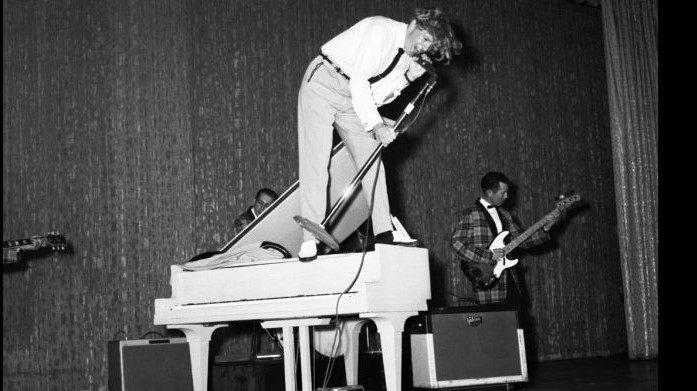 Categories: None
/