Shopping Cart
Your Cart is Empty
There was an error with PayPal
Click here to try again
Thank you for your business!
You should be receiving an order confirmation from Paypal shortly.
Exit Shopping Cart
| | |
| --- | --- |
| Posted on September 27, 2020 at 10:05 AM | |
Mornin' Ginchers,
Time once again for Soul Sunday ... "In a Mellow Mood ... the Temptations!"  I have been challenged many times during this covid era to post on facebook my top ten favorite albums.  Well, everytime I attempt to do so I always end up with at least twenty albums and then I sit here and try to weed out ten great albums.  But one thing that has happened during this challenge is one particular album always ends up in my hand ... yep, my favorite album of all time, hands down, no bout a doubt it ... In a Mellow Mood by the Temptations.  Am I a bit partial because of my love for this group?  Maybe but test for yourself.  Put the album on, turn down the lights, sit back in your favorite chair, maybe pour a glass of your favorite beverage and listen, really listen to this work of art.  I find myself doing this alot... when I'm stressed out or bothered about something ... this is my remedy.  There are two songs that stand out to me, the first is Paul Williams singing "For Once In My Life".  You can just feel the pain and soulfulness in his voice.  The second is my favorite Temptation of all time ... Melvin Franklin, one of the greatest bass voices.  When Melvin sings "Old Man River" it actually rattles your inner soul but then the four part, world class harmony comes in to support Melvin's lead and it is true pleasure.  The album was the brainchild of Berry Gordy.  Since the Temps were already the greatest soul group of the time, he wanted to crossover to reach the masses, to bring the Temptations into the wide world of Pop music ... OK let's call it like it is ... he wanted to capture the white audience as well.  That was not a challenge with me, since I already placed the Temptations on a silver platter high above any group of the time.  It was pure genius on Berry's part.  The album not only was a work of art but it opened the doors for not only the Temptations but most of the Motown Stable of Artists to play and headline the fine superclubs and elite venues.  In a Mellow Mood was released in 1967 and to this day is my go to album.  The Temptations revisited this idea in 1995 when they released the album "For Lovers Only".  Their selection of songs and modern approach to some of the standards are a true classic and also places in my top ten albums of all time.  I'm gonna close out now and before I get ready to go into my Ginchy Stuff store and museum, I'm pulling by favorite album of all time and playing it in my store today ... It's a Mellow Mood kind of day ... the Temptations ... Heavenly!  Till tomorrow, stay safe, stay healthy, help a neighbor when you can ... and, GOD Bless!
Johnny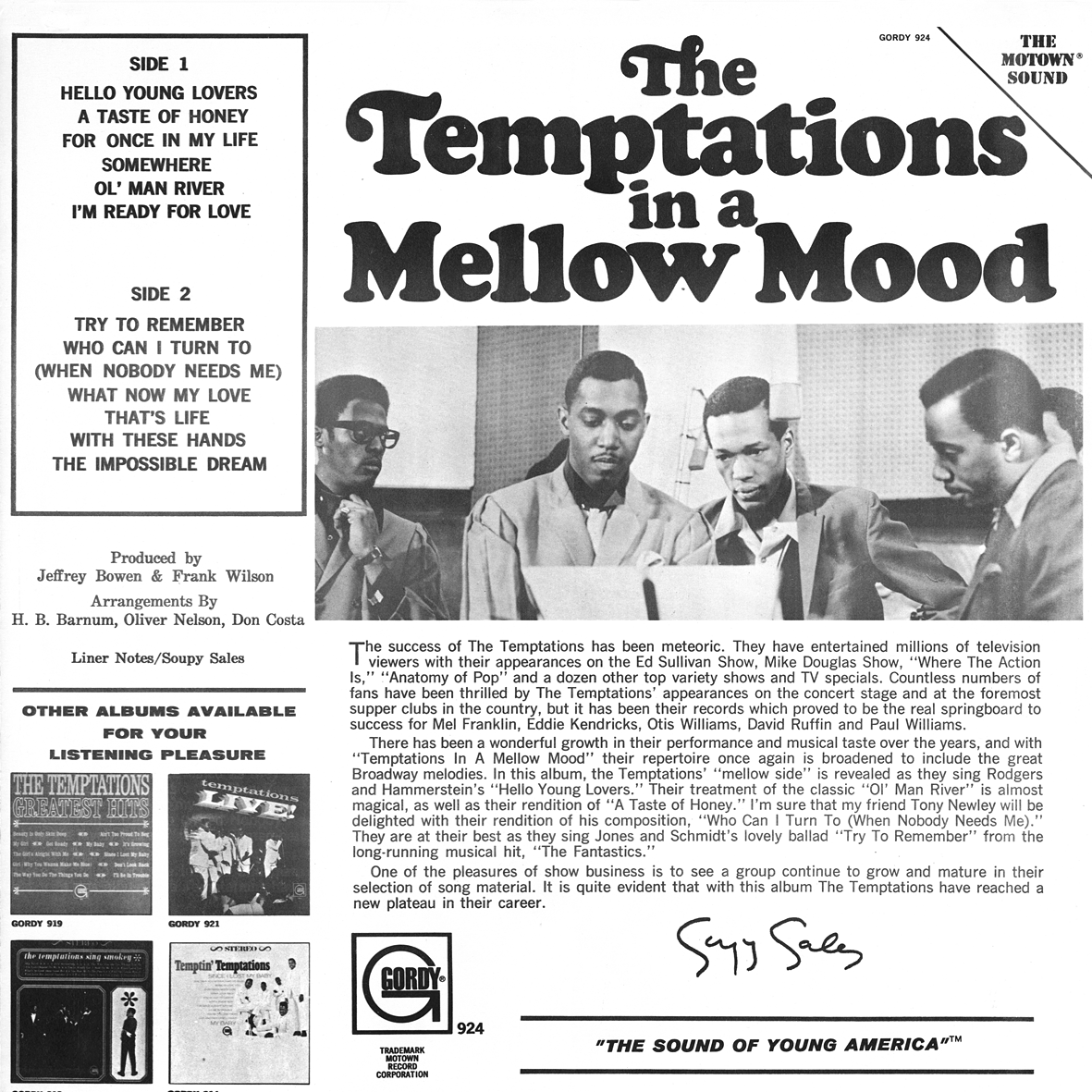 Categories: None
/